We all make mistakes - it happens to the best of us.
You can delete (or undo) distance from your bank as long as:
You haven't spent the distance on a walk, or you have enough steps in your bank to delete the banked distance.
The distance was manually added and not automatically pulled in through a wearable - e.g. Fitbit.
The distance was recently added (at most 1 month ago) and shows in the "Recent Activity" on the add steps (bank distance) modal.
How to delete recently banked distance
If you accidentally bank too many steps manually via the World Walking website or mobile apps, you can delete (or undo) the distance from your bank:
1. Login to worldwalking.org via the website, not the app, and visit your Dashboard. Click on Add Steps to open the bank steps modal: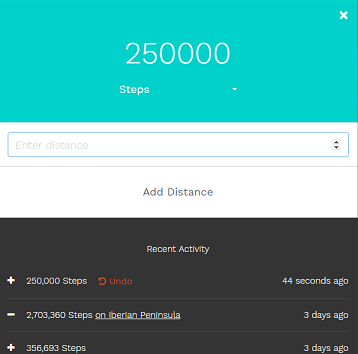 2. Click on "Undo" beside the accidental distance you want to delete - for example 250,000 steps in the example.
3. On the confirmation popup dialog, check the distance and confirm by clicking "Delete"