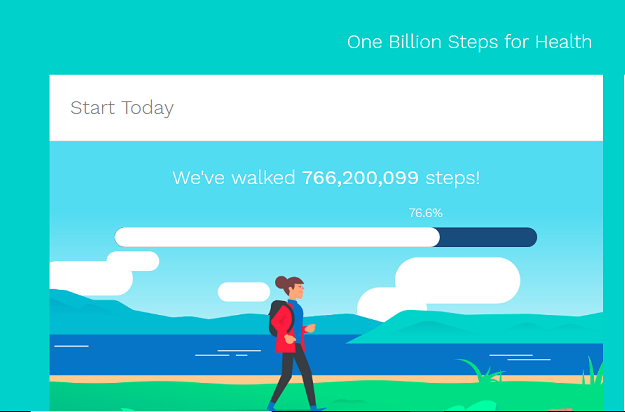 Amazed to have reached their 10th birthday and buoyed up by the success of  'Walk Europe' for World Heart Day 2017, the Inverclyde Globetrotters decided to go for broke and launch their '
One Billion Steps for Health
' Challenge using
World Walking
to celebrate World Heart Day on 29 September 2018.
To be honest ' one billion' was just a figure plucked out of the air; it seemed like a nice, big round number. They didn't realise just how far it was until they worked out that one billion steps in World Walking terms is 426,075 miles; not quite all the way to the Moon and back but a long, long way all the same. 
Thanks to a grant from Inverclyde Health & Social Care Partnership, a snazzy, branded World Walking 'landing page' was created for the Challenge by Papertank, the web wizards behind World Walking. The landing page allowed people to register/login to take part, create their own groups, start virtual walks from the range available on World Walking and add their distances. The big bonus of using the landing page was that it allowed all the distances added by those taking part to be automatically summed and displayed as a dynamic total letting everyone check on how the Challenge was progressing at a glance.
The Challenge was launched just before Christmas 2017 to help get 2018 off on the right foot.
By the time World Heart Day 2018 came around an amazing 766.2 million steps (326,459 miles) had been recorded; which means that, together, those taking part had walked the equivalent of 13 times round the World to promote heart health. Delighted by completing 76.6% of the Challenge it's been decided to keep it going to see if the magical 'billion steps' target can be reached.
As well as a number of individuals, a total of 38 groups took part in the 'One Billion Steps for Health' Challenge. These included:
The Inverclyde Globetrotters would like to say a huge 'Thank You' to everyone who has participated in the Challenge, especially Charles Kelly and his team at the 'Millport to the Moon Challenge' for their awesome contribution. 
The 'One Billion Steps for Health' Challenge was the only event undertaken in Scotland, and one of only 10 in the UK, organised to support World Heart Day 2018.
If you'd like to find out more about the 'One Billion Steps for Health' Challenge or explore how best to use World Walking to support your own walking initiative, please contact [email protected]