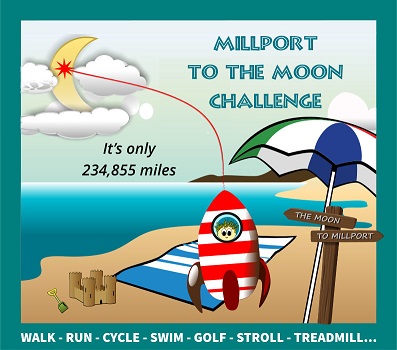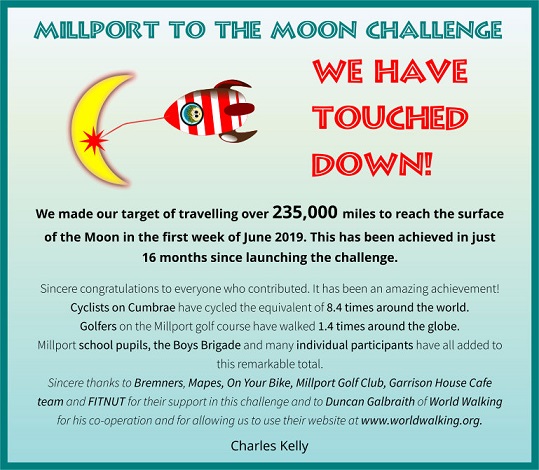 In 2017 I was looking to find a project which could offer a challenge for residents and visitors to the Island of Cumbrae to encourage them to become more active and fortunately, discovered the World Walking concept. Following on from a meeting with its founder, Duncan Galbraith, the concept of Millport to the Moon was born. The idea was to have walkers, cyclists, golfers and others to contribute their distances travelled to see how long it would take to get to the Moon – some 235,000 away. The aim was to reach the Moon in time for the 50th anniversary of the first Moon landing in July 2019.
The idea quickly gained momentum when, thanks to a contribution from the NHS, we were able to supply each school pupil at Millport Primary School with their own pedometer and they started their first walk from Glasgow to London with the miles being totalled and visually recorded on the World Walking website. This was quickly followed by the members of the Boy's Brigade taking up the challenge to walk the Great Wall of China. The three bicycle shops joined the challenge by contributing the number of circuits of the island being ridden by bike hirers and the Millport Golf Club added to that total by counting the miles walked by individual golfers. Many individuals also joined the challenge.
The challenge was launched in March 2018 and by June 2019 the total number of miles travelled had exceeded 255,000 so we made it with a month to spare. In that time, cyclist on Cumbrae travelled eight-times around the world and golfers walked 1.5 circuits of the world.
The World Walking website proved to be a winner in being able to provide a variety of virtual walking routes and a visible record of the achievements for the individuals and organisations taking part in this challenge. I would like to record my personal thanks to Duncan and his team at World Walking for their support in this event.
Charles Kelly
Part-time resident of Millport for over 30 years.
Note: Charles was directly involved in marketing and promoting the Island of Cumbrae, including creating and running the very successful tourism web site for 10 years before he decided to retire from that role in 2017.