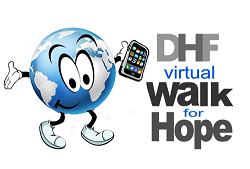 We're delighted to see World Walking being used by a charity to help raise funds for the first time.
The Diabetes Hope Foundation, based in Mississauga in Canada, was created in 1999 to help families struggling with the financial and emotional challenges of children living with diabetes. Since then, Diabetes Hope has worked in partnership with corporations, families and community partners to support over 1,000 families with diabetes across Canada.
This year Diabetes Hope has decided to revamp their 9th annual Diabetes Walk for Hope in September as a completely new virtual event featuring a Canadian Cities walk which we've created especially for their event. All proceeds raised from the event will be used to support Diabetes Hope Foundation's programmes for young people living with Diabetes across Canada.
We hope the Foundation's 2015 Walk for Hope is a great success.
If you would like to find out more just check out http://www.diabeteswalkforhope.com/