It always delights us when we see others using World Walking to help others.
One of the charities which made good use of World Walking this year is Linda's Fund, a small-volunteer-led charity based in Fortrose in the Scottish Highlands which raises money for further education bursaries to help students of the Mulanje Mission Community Day Secondary School in Malawi find employment.

Here's their story.
---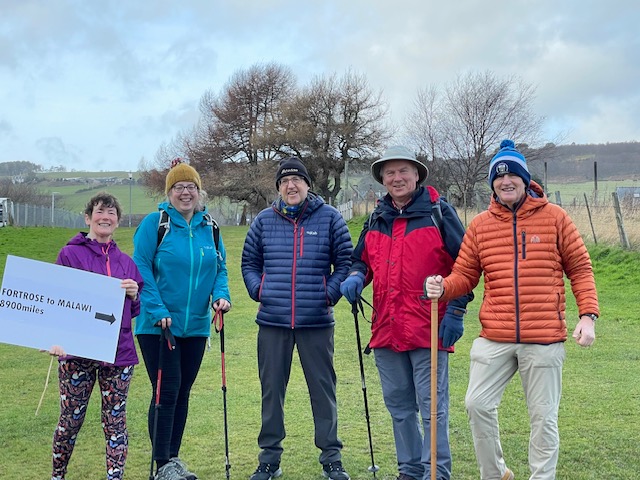 How about walking 8,898 miles to Malawi?! If someone had suggested that a few years ago I would have laughed but with the wonders of the internet, World Walking and the help of 14 others it was possible to do it without leaving UK let alone the Highlands.
Raising money for Linda's Fund, supporting vocational education in Malawi, we set off on 1st February to walk the the distance by combining everyone's mileage. We completed the distance on 1st July which was an average of roughly 600miles each or 4 miles a day everyday. Some people managed almost 3 times the average however it was not a competition but a challenge.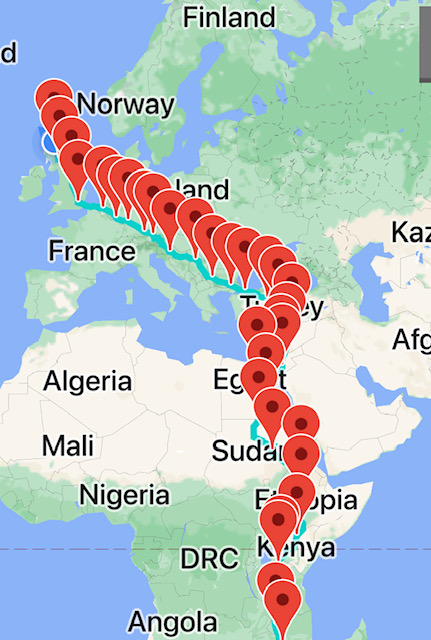 The route once in Europe followed almost exactly the route that my late wife Linda and I travelled in 1979 when we drove from UK to Baghdad where we lived for 3 years. We virtually walked through, France, Germany, Austria, Croatia, Greece, Turkey, Syria and Jordan passing well known sites like Paris, Munich, Istanbul, Cappadocia, Damascus and Petra and that was roughly only the half way point! Into Egypt we crossed the Suez Canal, passed the Pyramids and then followed the Nile south into Sudan and Ethiopia. From Sudan we stayed in the Rift Valley through the Masi Mara and Serengeti before entering the north of Malawi. From there it was still another 550 miles south along the shore of lake Malawi to Mulanje Mission and Fortrose Academy's partner school.

Money raised so far (July 2022) is about £3000. It provides much needed bursaries for students to undertake vocational training at colleges. Most of the students have to live away from home to go to college. The annual cost of accommodation and fees of about £350 a student, although much less than UK, is equivalent to over a years salary and therefore out of reach for the vast majority of families who attend the school.
Since 2007 we have given 32 students the opportunity to study and most have gone on to get employment or use their skills to start businesses in the area. One year we had over 30 applications for 3 bursaries!
Two recent examples:-

Loveness studied hairdressing for 1 year and with further help of £50 for hairdryers set up a local business; and
Louis studied electrical installation for 3 years and now has a full time job in a factory in the capital city Lilongwe.
A current student Two Gweta who is studying motor mechanics wrote to us in July 2022
" Hie sir, I hope you are fine. And am also fine here. Thank you for the greatest job that you have been doing upon my studies and the love being shown to me since I started my level one in automobile mechanics. It has been a hard time to make it from level one to level 3 but I do thank God for his grace, mercy and favour in all the time. Pass my greeting to the whole Linda's fund team."
The fund is managed in Malawi by a local committee chaired by the Head Teacher and in the UK by a small group of volunteers.
It is very rewarding to hear back from students and for all the support given to the Fund over the years from both individuals and Fortrose Academy staff, pupils and parents. We can only make small changes but they all can add up to make a big difference.
The virtual walk was great fun and encouraged us all to keep walking. Maybe next year we can virtually climb Everest as the next challenge?!
More information about Linda's Fund and how to support it can be found on our charity's website.
Thanks to the wonderful World Walking team for setting the walk up for us, making it happen and providing the ability to easily track our progress. Phones or Fitbits recorded our individual mileage and linked to their app when we submitted details daily, weekly or whenever we wanted.

Alastair Nelson
Trustee of Linda's Fund.