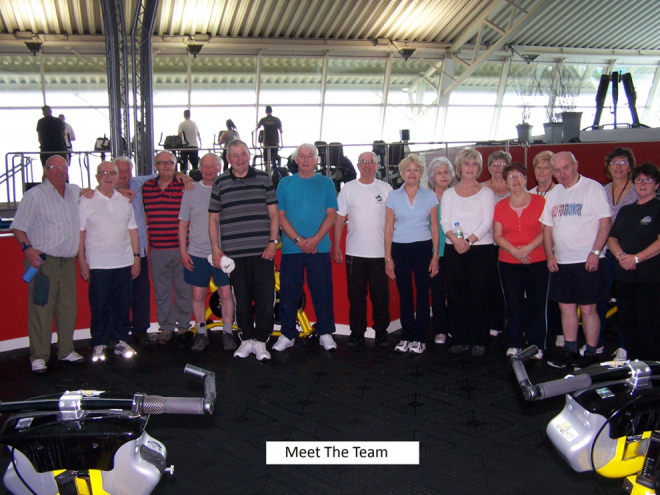 Who are the Inverclyde Globetrotters?
The idea for the Inverclyde Globetrotters came from our weekly gym based cardiac rehabilitation class in Greenock, Scotland. Our class is just one of many classes delivered by Inverclyde Leisure through the Live Active Exercise Referral Scheme that operates in our area. We now cater for a variety of conditions - although we still have more than our fair share of by-passes, stents and pacemakers.
Everyone knows that as soon as you start walking on a treadmill time immediately slows down and you think, mistakenly, that by staring at the clock on the machine you can will it to go faster.
So in February 2008 we decided to ask our members a question – "Would you be up for the challenge of walking round the world?" – Not the kind of question you get asked every day.
Luckily, once they stopped laughing at the very idea of it, the members agreed to have a go.
The aim of our walk was simply to encourage members to stay active between classes and accrue the health benefits that come from more walking and less sitting. We also hoped that achieving such a long term goal – a journey that would take years to complete - would provide a real sense of accomplishment.
We gratefully accepted a box of pedometers from the cardiac rehabilitation team at Inverclyde Royal Hospital, bought a map, worked out a route and set off on our virtual journey round the world.
We timed the start of our walk to coincide with the launch of the 2008 Scottish campaign to promote cardiac rehabilitation. It was our way of saying thanks.
We contacted GB Olympic rowing legends, Sir Steve Redgrave and Sir Matthew Pinsent, more in hope than expectation, to ask if they would be kind enough to send a few words of encouragement and they did!
Each week pedometers were handed over and steps recorded and distances walked, cycled and rowed during the class captured. We tallied up our figures and plotted our progress on our map.
In May 2010, after 117 weeks on the road, having made it to Beijing in time for the 2008 Olympics, we arrived back in Greenock having clocked up 30,688 miles.
Seven years on we're still walking and have now clocked up over 130,000 miles [that's over 5 times round the world!] to more than 100 countries worldwide without ever leaving Greenock.