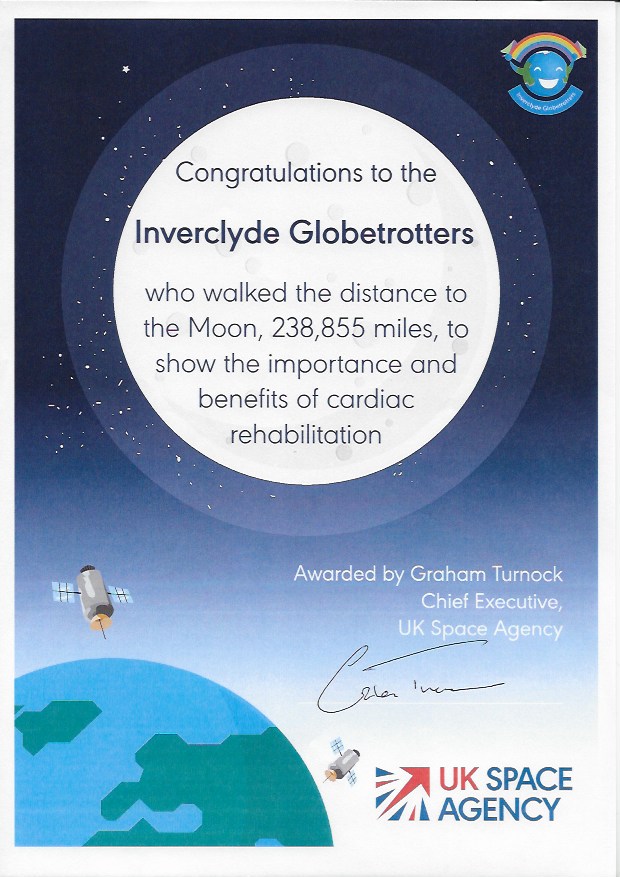 Breaking News!
This news just in from the Mission Command Centre at Inverclyde Leisure's Waterfront Leisure Complex in Greenock.
At 12.30 p.m. Greenock Mean Time on Tuesday 14 May 2019, the Inverclyde Globetrotters' lunar module, IG1, powered solely by the physical activity of its crew, most of whom are in their 70s and 80s, landed softly on the Moon.
The group, which inspired the creation of World Walking, launched its 238,855 mile mission on 5 February 2008 in support of the 2008 Scottish campaign to highlight the importance and benefits of cardiac rehabilitation.
The Inverclyde Globetrotters, who are affiliated to Scotland's Health Charity, Chest Heart & Stroke Scotland, took just 11 years, 3 months and 10 days (4,117 days) to complete their epic journey.
"One long walk for them. One giant stride for heart health".