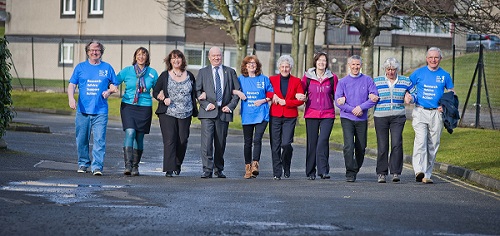 Heart & Sole Walk 2015
A worldwide walk with a difference to promote heart health has just been completed thanks to World Walking, a unique free website created by a group of ordinary people living with heart conditions simply to motivate people to walk more.
In February, the 'Heart & Sole Walk 2015' was launched with the aim of virtually walking round the world to promote the benefits of cardiac rehabilitation. The challenge, which was supported by the Royal College of Physicians & Surgeons of Glasgow, was organised by:
Chest Heart & Stroke Scotland;


The British Association for Cardiac Prevention & Rehabilitation;

T

he Cardiac Rehabilitation Interest Group for Scotland; and 

T

he Inverclyde Globetrotters, the heart health group from Greenock which created World Walking.
Over 100 individuals and heart health groups took part to complete the 34,000 mile challenge; one of the longest heart health walk ever undertaken and the first online to circumnavigate the globe involving people on different continents. 
Cardiac rehabilitation and heart health groups and services from across the UK took part ranging from the Highland Heartbeat Centre in Inverness to the Mid Essex Hospital Services NHS Trust.  The Mid Essex cardiac rehabilitation team have had so much fun taking part in the Heart & Sole Walk that they now plan to walk another lap of the world…in the opposite direction!
Amongst the other most active walkers were a group of 144 prisoners at Wakefield Prison who clocked up over 3,100 miles.  The Prison's Physical Education Officer, Neil Evans said
"Over 20% of the 750 prisoner population suffer with cardiac related issues. 144 prisoners voluntarily participated in this organized event. This challenge was a fantastic initiative to raise awareness across the establishment and provide additional opportunities for prisoners to get involved in physical activity at the appropriate level. The success of this project has raised awareness of their own health & well-being and increased participation levels across the establishment.  As a result, future projects have been proposed to develop the health & well-being of cardiac patients at this prison."
This unique event also brought together groups from as far afield as Canada and Australia.
The Cardiac Health Foundation of Canada celebrates its 50th Anniversary this year.  To mark that important milestone a special walk across Canada was created on World Walking which the 6,000 members of the Foundation's 30 Walk for Life groups across Canada could tackle together as part of their anniversary celebrations. The walk across Canada was based on the route taken by a young man named Alex Horton who had cycled 5,000 miles across Canada in 2011 "to give back to an organisation that had done so much for him in his life and to show that issues with cardiac health don't have to mean the end of active lifestyle and following your ambitions".
The Foundation's Executive Director, Barbara Kennedy, said
"We have walked across Canada with our Toronto Walk of Life event alone and all our 30 Walk of Life groups across Canada will also be taking part. Congratulations to all for this international collaboration of advocacy of cardiac health, rehabilitation and wellness!"
On the other side of the world, a group of 'Heartmoves' clients in the small town of Quirindi in rural New South Wales, Australia led by Cardiac Rehabilitation Nurse Specialist, Robyn Lees, have been so inspired by the event that they have decided to walk half was round the world to meet the Inverclyde Globetrotters, the heart health group in Greenock who created World Walking, starting on June 11th to coincide with the National Heart Foundation of Australia's "Go Red For Women" campaign.
The Walk's Patron, Louise Martin CBE, Chair of Sportscotland said:
"I am delighted to see so many people taking part in the Heart and Sole Walk 2015. Remaining physically active after a heart related issue can be vital and I am proud that this event has helped to spread this message far and wide. 
Making physical activity a part of your daily life is so important to overall wellbeing and this virtual walk around the world will benefit those who have taken part as well as those who have been inspired by the event."
Louise Jopling, Honorary Secretary of the British Association for Cardiac Prevention and Rehabilitation added: 
"BACPR promotes excellence in cardiovascular disease prevention and rehabilitation and we are delighted to congratulate the individuals, groups and organisations who came together from across the globe to 'walk the world'.  As well as Cardiac Rehabilitation Groups, many of our members and Council took part and benefited ourselves from some motivation to keep active! BACPR is proud to support the Heart & Sole Challenge and worldwalking.org in providing an innovative, fun and engaging way to promote physical activity."
For Further Information:
Duncan Galbraith, World Walking
Email: [email protected]
Tel: 0775 750 1203