2019 - 20: Another Successful Year for World Walking
Our tiny Scottish charity is delighted to have made it through another financial year.
We thought we'd share with you how 2019 -20 finished. We're well chuffed. Thanks to all our users for supporting what we're trying to do. We hope World Walking has helped motivate you to walk more than you would otherwise have done and that you've had fun exploring our amazing world; even if only virtually!.
Our financial year ended with the world struggling to contain the ongoing coronavirus outbreak and our thoughts and prayers are with all those who are suffering at the present time and for all of the frontline staff who are fighting to care for all those who need help in these worrying times. As people abided by social distancing rules and stayed at home to prevent the spread of the disease, we saw a big increase in the number of new user accounts being created - over 2,100 in March 2020 - as they sought out other ways to help them stay active and stay safe.
Here are our key results for the year: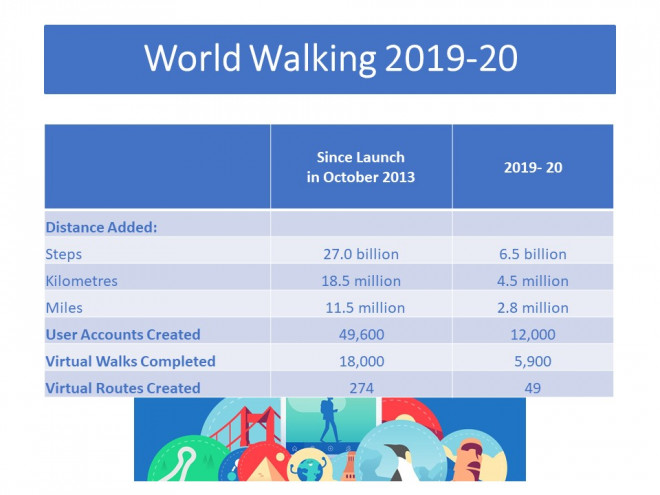 We're 100% committed to keeping World Walking free for everyone to use. We can't do that on our own so we'd like to say a huge thanks to those of you who have so kindly supported us with donations during the year. We're also very grateful to Inverclyde Council for awarding us another grant to help keep World Walking going and to the Inverclyde Health & Social Care Partnership and CVS Inverclyde for their support and encouragement.
And last, but certainly not least, the brilliant - and patient - digital design and development team of Chris and David (at Papertank), Fergus (Mayday Development Ltd) and Michael (Turing Limited), without whom there would be no World Walking. Thanks guys. You're the best.
Happy Walking
Take care and stay healthy.
Kindest Regards
Duncan
Founder- World Walking